Steven P Verney
Professor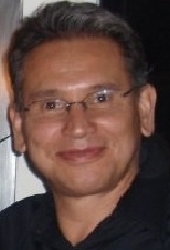 Office: 

Logan Rm 164

Education: 

Ph.D., San Diego State University/University of California, San Diego, 2000
 
 
Research Area/s:
Clinical Psychology,  Health Psychology
Research Interests:
Cultural factors in cognitive assessment
Cognitive aging
Physical and mental health disparities
Wellbeing in older Native Americans
Psychphysiological and information processing indicies of gocnition
Profile:
Accepting students?  Dr. Verney is accepting students for Fall 2022.  Please email Dr. Verney if you are interested in pursuing graduate studies.
Steven P. Verney, Ph.D., is an Alaska Native (Tsimshian) Associate Professor in the department of Psychology at the University of New Mexico (UNM). He is currently a co-Investigator on the newly NIMHD-funded Health Disparities Center of Excellence to UNM, the Transdisciplinary Research, Equity and Engagement (TREE) Center for Advancing Behavioral Health, a Senior Fellow with the Robert Wood Johnson Foundation Center for Health Policy at UNM and a past fellow in the American Indian Alaska Native Program at the University of Colorado. He strives to increase diversity awareness and training and has developed the department's Diversity Organization (DO!), a student organization to increase diversity awareness and training within the department, and the Cultural Counseling Center, which provides clinical supervision and consulting services to students working with diverse populations. Dr. Verney's overarching philosophy is that culture counts. Culture is infused in all of our beings
influencing how we think, feel, and behave. His research has evolved into a mental health disparities focus, especially in the American Indian/Alaska Native populations.  He is interested in the role of culture in cognition and assessment including education (i.e., quality of education), language (bilingualism), and acculturation/cultural adaptation processes.
Selected Publications
Verney, S. P., Avila, M., Rodriguez Espinosa, P., Cholka, C. B., Benson, J., Baloo, A., & Pozernick, C. D. (2016). Culturally Sensitive Assessments as Strength-Based Approach to Wellness in Native Communities: A Community-Based Participatory Research Project. American Indian Alaska Native Mental Health Research, 23, 271-293.
Suchy-Dicey, A., Shibata, D., Best, L., Verney, S. P., Longstreth W. T. Jr., Lee, E.T., Okin, P.M., Devereux, R., O'Leary, M., Ali, T., Jensen, P. N., Muller, C., Nelson, L. A., Rhoades, E., Madhyastha, T., Grabowski, T. J.,  Beauchamp, N., Umans, J.G., & Buchwald, D. (2016).  Cranial magnetic resonance imaging (MRI) in elderly American Indians: Design, methods, and implementation of the Strong Heart Stroke Study. Neuroepidemiology, 47, 67-75. doi:10.1159/000443277.
Venner, K. L., & Verney, S. P. (2015). Motivational interviewing: Reduce student reluctance and increase engagement in learning multicultural concepts. Professional Psychology: Research and Practice, 46, 116-123.
Verney, S. P., Bennett, J., & Hamilton, J. (2015).  Cultural considerations in the neuropsychological assessment of American Indians/Alaska Natives.  In Richard Ferraro (Ed.), Minority and Cross-Cultural Aspects of Neuropsychological Assessment: Enduring and Emerging Trends, 2nd edition, 115-158. New York, NY: Psychology Press.
Avila, J. F., Verney, S. P., Kauzor, K., Flowers, A., Mehradfar, M., Razani, J. (January 9, 2018). Normative Data for Farsi-Speaking Iranians on Frequently Administered Measures of Executive Functioning. Applied Neuropsychology:  Adult, 0, 0.0. Retrieved from: http://www.tandfonline.com/doi/full/10.1080/23279095.2017.1392963
Bennett, J., Verney, S.P. (January 9, 2018). Linguistic factors associated with phonemic fluency performance in a sample of bilingual Hispanic undergraduate students.  Applied Neuropsychology:  Adult, 0, 0.0. Retrieved from: http://www.tandfonline.com/doi/full/10.1080/23279095.2017.1417309
Courses Taught
PSY 374--Cross-Cultural Psychology
450/508--Research with Diverse Populations
PSY 450/650--Health Disparities
PSY 450/516--Health Disparities
Lab
CURRENT GRADUATE STUDENTS IN THE LAB 
Justina Avila, M.A.
Justina is a fifth-year Puerto Rican doctoral student in the Clinical Psychology program at UNM. She received her M.A. in Clinical Psychology from CSU Northridge, where she studied the effects of acculturation on neuropsychological test performance in ethnically diverse individuals. Her current research interests involve examining culture and cognitive test performance in understudied minority groups, the intersectionality of gender and ethnicity in the diagnosis and progression of Alzheimer's disease, and addressing health disparities through the development of culturally valid assessments and techniques. 
Juan Peña, M.S.
Juan is a third-year doctoral student in the UNM Clinical Psychology program and a Graduate Research Fellow with the National Science Foundation. His research interests revolve around health disparities with Latino immigrants and deportees. In particular, he is interested in border health issues, traumatic experiences across different stages of immigration, discrimination, acculturation process, and culturally valid assessments. He is also interested in mental health care access and utilization in diverse groups. 
Alexis Burks, M.S.
Alexis is a first-year doctoral student in the UNM Clinical Psychology program. She received her Master's degree at U of Texas Southwestern in Cognitive and Applied Neuroscience. She is interested in clinical neuropsychology, cultural factors in cognitive assessment, and health disparities.
Prospective clinical psychology doctoral students interested in working with Dr. Verney should have an interest in, and research experience with, at least one of the following:
Cultural issues and cognitive assessment
Health disparities in ethnic minority, especially Native American, populations
Information processing and psychophysiological measures of cognition
Prospective students may contact Dr. Verney at sverney@unm.edu.