Margo Hurlocker
Assistant Professor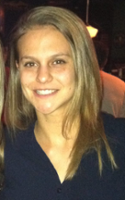 Email: 

Office: 

Logan Hall, 166

Education: 

PhD University of Southern Mississippi
 
 
Research Area/s:
Clinical Psychology,  Health Psychology
Research Interests:
Health Risk Behaviors, particularly those leading to chronic health conditions
Prevention practices for substance use disorder comorbidity
Implementation strategies to improve the healthcare system
Profile:
Taking Students?  Dr. Hurlocker is not accepting students for Fall 2024.  Please email Dr. Hurlocker if you are interested in pursuing graduate studies.
The Behavioral Health, Implementation, and Prevention (BHIP) lab is focused on investigating the etiology, prevention, treatment, and implementation of health risk behaviors that commonly lead to chronic health conditions. One aim of our work is to develop and implement prevention interventions for young adult populations with co-occurring substance use and other mental health issues. A second aim of our work is to improve the healthcare delivery system by testing novel implementation strategies and evaluating mechanisms of implementation effectiveness.
Selected Publications
Hurlocker, M. C., Carlon, H., Pearson, M. R., & Hijaz, D. (2023). Trajectories of change in subclinical anxiety and alcohol use during treatment: A parallel process growth model. Drug and Alcohol Dependence, 246, 109838.
Hurlocker, M. C., Madson, M. B., Lui, P., Dvorak, R., Ham, L. S., Leffingwell, T., Looby, A., Meier, E., Montes, K., Napper, L. E., Prince, M. A., Skewes, M., Zamboanga, B. L., & Harm Reduction Research Team. (2022). Mental health risk profiles and related substance use during the coronavirus pandemic among college students who use substances. International Journal of Mental Health and Addiction. https://doi.org/10.1007/s11469-022-00813-1.
Hurlocker, M. C., Moyers, T. B., & Houck, J. (2021). Can a pure motivational interviewing intervention be manualized and still efficacious? A test of feasibility and initial efficacy. Psychotherapy, 58(2), 196-205.
Hurlocker, M. C., Madson, M. B., & Schumacher, J. A. (2020). Motivational interviewing quality assurance: A systematic review of assessment tools across research contexts. Clinical Psychology Review, 82,
Courses Taught
PSYC 332: Abnormal Psychology
PSYC 514: Health Psychology Interventions
PSYC 650: Advanced Health Psychology