Eric Ruthruff
Associate Professor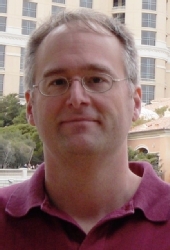 Email: 

Phone: 

(505) 277-7751

Education: 

Ph.D., University of California, San Diego, 1995
 
Research Area/s:
Cognition, Brain and Behavior
Research Interests:
Attention capture
Cognitive control
Automaticity
Emotion
Cognitive Training
Dual-task performance
Cognitive aging
Memory
EEG & Neuroscience
Mathematical modeling
Profile:
Cognitive psychology. In general, I am interested in how the mind controls itself. Specific research interests include spatial attention, task switching, and dual-task performance.
I am also interested in cognitive aging, neuroscience, and mathematical modeling. I am currently seeking a graduate student to begin in the Fall of 2007. Interested students are invited to contact me for further information about research opportunities and funding.
Selected Publications
Johnston, J. C., Ruthruff, E., and Lien, M.-C. (in press). Visual information processing from multiple displays. Human Factors.
Gaspelin, N., Jung, K., & Ruthruff, E. (2014). Slippage theory and the flanker paradigm: An early-selection account of selective attention failures. Journal of Experimental Psychology: Human Perception and Performance, 40, 1257-1273.
Noosen, B., Lien, M.-C., and Ruthruff, E. (2014). An electrophysiological study of attention capture by salience: Does rarity enable capture? Journal of Cognitive Psychology, 3, 346-371.
Lien, M.-C., Taylor, R.; Ruthruff, E. (2014). Capture by fear revisited: An electrophysiological investigation. Journal of Cognitive Psychology, 25, 873-888.
Ruthruff, E. (2013). The Psychological Refractory Period. Encyclopedia of the Mind. Sage Publications: Thousand Oaks.
Gaspelin, N., Ruthruff, E., & Pashler, H. (2013). Divided attention: An undesirable difficulty in memory retention. Memory & Cognition, 41, 978-988.
Courses Taught
PSY 265 Cognitive Psychology

PSY 450 Belief in Weird Things

PSY 450/650 Seminar on Attention

PSY 561 Cognitive Processes
Lab
Former Students:
Nick Gaspelin (2014) -- Postdoc at UC, Davis (advisor: Steve Luck)
Kyung-Hun Jung (2013) -- Faculty at Southern Polytechnic State University
Current Students:
Michael Faulks
Josh Maxwell